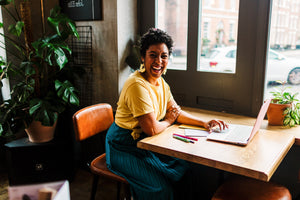 I bring joy to education, Accessibility to community & Healing to self care
Creating communities where the unseen are seen
I use my lived experience of invisible chronic illness and disability and formal training in human rights to help others like me move past illness at work. My dream is for the communities of people who live with invisible illnesses and disabilities to feel welcome, seen, valued and heard.
Consulting Services
supporting your journey
Looking to make your spaces more inclusive and accessible? Are you overwhelmed on how to get started? Here at Spark Clarity we'll have your business on track to an equitable future.
Learn More
choose your adventure...
I'm someone with a chronic illness / invisible disability
Let's get started
I'm a business owner wanting to make my spaces inclusive & accessible
let's work together
Keynote Speaker
sparking inspiration
As a speaker, I use my unique experience as a Black queer disabled and chronically ill woman to share messages of resiliency, hope, optimism, humour, and tips for overcoming challenges.
Learn More
New york Times bestselling author says
"Clary is fantastic"
She brings an incredible depth of care, heart and professionalism to her work.
-Marie Forleo, Author of Everything is Figureoutable
Learn More About Clary
what others have to say...
Clary uses humour her own lived experiences to inspire others. I'm so grateful to have met Clary. Our community was overjoyed.

Laura Dohert, Lululemon Representative
Clary is an incredibly unique and inspiring individual. She is able to motivate others to make changes to live their most authentic lives

Yana Fedyanova, Workshop Participant
had a blast working with...